AQUASCAPING GLUE . FISH ,SHRIMP SAFE GREAT FOR PUTTING PLANTS ON WOOD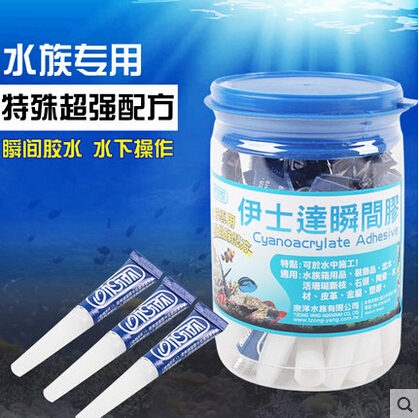 Product details
AQUASCAPING GLUE . FISH ,SHRIMP SAFE GREAT FOR PUTTING PLANTS ON WOOD
Details
ISTA Glue is a superior cyanoacrylate gel for attaching moss and plants to rocks,driftwood,and even gravel.It's uniquely useful when planting bunch plants.Simply apply ISTA Glue,plant as usual and the plants stay rooted in the substrate.It bonds within seconds and has excellent control,hold and durability characteristics.It can even be used underwater.can be used for any aquascaping in freshwater or saltwater aquariums or for any plastics repairs
A cyanoacrylate gel type instant adhesive.
Can be used in the

water.
Adhesive for
Decorations,Driftwood,Coral,Ceramics,Timber,Metal,etc.
Excellent for gluing -
stony coral fragments to coral rock and other surfaces.
No messy mixing of 2-part epoxy putties,or concern with irritation to tank inhabitants from leaching amine epoxy curing agents.
Highest purity cyanacrylate adhesive available.
Size-4g×2