HOT 502 Super Glue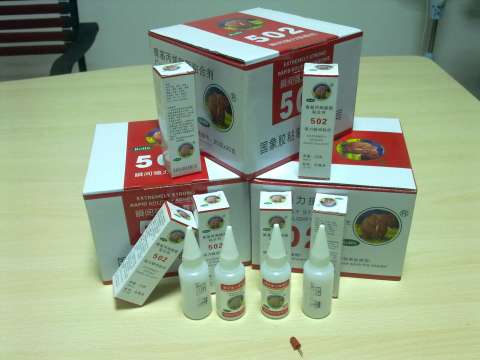 Product details
  Super Glue Gel has proven superior performance over ordinary super glues. It works faster and holds stronger on more surfaces than ordinary instant adhesives thanks to a patented additive. The gel formula works on a variety of porous and non-porous surfaces and is ideal for vertical surfaces and small gaps. Super Glue Gel comes in a self-piercing tube; it dries clear and sets without clamping. It is also resistant to moisture, most chemicals and freezing temperatures.
  Recommended For
  Repairing figurines, costume jewelry, cameras, toys, metal car parts, wiper blades, rubber seals and O-rings
  Bonding leather, cork, paper, cardboard, wood, chipboard, fabric, metal, ceramic, rubber and hard plastics such as Plexiglass, polycarbonate, polystyrene and PVC
  Ideal for vertical surfaces
  Not Recommended For
  Glazed surfaces
  Styrofoam, foam rubber, pure bone china, glass, silicone rubber, PTFE, polyethylene and polypropylene
  Exterior applications
  Use on repairs needing high flexibility or for gap filling applications
  Use in dishwasher, oven or microwave.
  Safety Precautions
  Apply in a well ventilated area. Wear gloves.
  Preparation
  Surfaces must be close fitting with no gaps, clean, dry and free from oil, wax and paint. Protect work area. Lightly roughen smooth surfaces for better adhesion. Pre-fit parts to be joined.
  Application
  In a clock-wise direction, screw the cap and nozzle assembly down all the way to the tube shoulder, puncturing the tube. Remove the cap counter clockwise from the nozzle. Apply sparingly to one side only using approximately one drop per square inch of surface. Press surfaces together immediately. Hold in place for 15 to 60 seconds until bond sets. Do not reposition parts. Clean tip with tissue and replace the cap.
  Cleanup
  Use Super Glue Remover to clean up uncured adhesive residue. Cured adhesive may be cut away with caution using a sharp blade, removed with acetone or with boiling water.