Instant Super Glue for metal plastic and rubber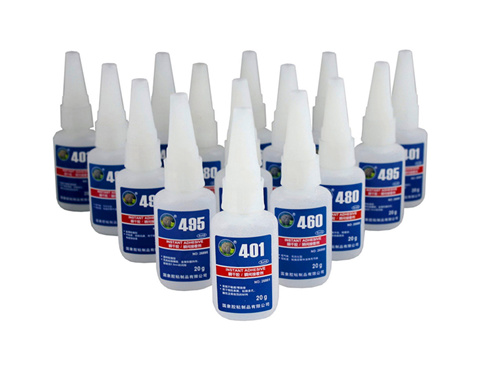 Product details
GUO-ELEPHAT special CYANOACRYLATE ADHESIVES is especially formulated for industry applications, and achieve superb adhesion effect to suit different working conditions, with wealth of knowledge. Especially to plastic, porous surface, low blooming application.

GUO-ELEPHANT 401/406/424/454
It is quick setting velocity and medium viscosity that bond acidic and porous substrate even under low humidity condition; can apply on wood, cardboard, leather, rubber, woven fabric and PVC.
Direction:
1.Bonding surfaces should be clean, and GUO-ELEPHANT Primer should be applied firstly for metal, while alcohol should be applied for plastic.
2.Apply suitable quantity of glue to the bonding surface, and the glue will be cured after pressing 5-10 seconds.
3.Superfluous of glue will slow down the velocity and reduce the strength, while the use of automatic dispensing machine is acceptable.
Grade

Viscosity
(CPS)

Gap Fill
(mm)

Setting Viscosity
(Sec.)

Appearance

Tensile-Shear
Strength (kgf/cm2)

Temperature
Range
401 100 0.1 0-10 transparence 120-160 -55-----82℃
406 20 0.05 0-10 transparence 120-160 -55-----82℃
424 100 0.1 5 transparence 120-160 -55-----82℃
454 thixo gel 1 0-20 transparence 180-220 -55-----82℃