502 super glue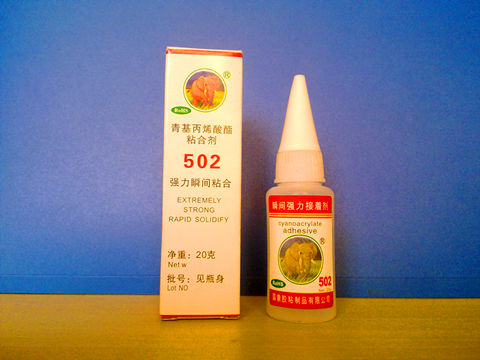 Product details
Packaging & Delivery
| | |
| --- | --- |
| Packaging Detail: | guoxiang brand packing Can be packing according to buys requirement. |
| Delivery Detail: | 20 days |
502 super glue suitable for plywood, aluminum composite panel, fire board, plastic, wood, metal and other material adhesion.
Application:
Contact adhesive for formica, leather,rubber,metal,super strong, high quality, specially for middle east and africa market.
Contact adhesive Specially Used For Formica, Also Used To Bond Leather, Rubber, Wood, Glass, Metal, Carpet, Fabric And So On.
Using Method:
1. Clean The Joint Surface And Dry.
2. Smear the Glue On Both Sides Of Joint Surface. Fold And Press After Proper Drying.
3. Dry For 48 Hours Could Reach Using Intensity, The Mas Intensity After 7 Days.
4. It Can Be Used By Brush, Roller Coater, Notched Trowel, Air Spray (Hot Or Cold), Airless Spray (Hot Or Cold), Curtain Coater And So On.